Articles Tagged "David Archibald"
Sorted by:
Date Posted
|
Views
Wednesday, July 29th 2009, 2:34 AM EDT
here
Specifically, he said:
"
Still, something like the Dalton Minimum — two solar cycles in the early 1800s that peaked at about an average of 50 sunspots — lies in the realm of the possible.
"
NASA's David Hathaway has adjusted his expectations of Solar Cycle 24 downwards. He is quoted in the New York Times
Tuesday, June 23rd 2009, 11:25 AM EDT
Sun today - a spot group has appeared, spots 1022 & 1023 are cycle 24 spots
Guest post by David Archibald on WUWT
Frank Hill says that his sunspots will be with us in three to six months. The Ap Index suggests otherwise. There is a correlation between the geomagnetic indices (aa Index and Ap Index) at minimum and the amplitude of the following solar cycle.
Earlier this year I produced this graph of the Ap Index plotted against solar cycle maxima when I thought that the Ap Index would bottom out at three, giving a maximum amplitude of 25:
Monday, June 15th 2009, 4:17 AM EDT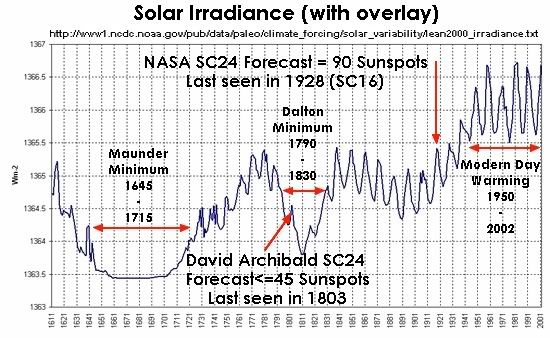 Will the next cycle be a Dalton Minimum repeat, or a start of a new Maunder Minimum?
This is what David Archibald went on to say to SC25.Com in a recent email...he believes that start of Solar Cycle 24 could also be the start of a new Dalton or Maunder Minimum, the historic cooler conditions on Earth (see the period on display on the above overlay) that correlate to low solar activity and "Global Cooling".
He then said that the Maximum Sunspot count he expects is HALF of that forecast by NASA, in that David only expects no more then 45 Sunspots at the SC24 Maxima (last seen in 1803), and in his own words "it could even be south of that".
Monday, June 15th 2009, 4:07 AM EDT
In this presentation, I will put forward a prediction of climate to 2030 that differs from most in the public domain. It as a prediction of imminent cooling. And it is a prediction that you will be able to check up on every day.
I am going to start off by looking at the near term temperature record, and then go back successively further in time, looking at the range of temperatures in the historic record and then the geological record. Then we will examine the role of the Sun in changing climate, and following that the contribution of anthropogenic warming from carbon dioxide.
I will finish up combining a solar-driven prediction and the anthropogenic contribution to make a prediction of climate to 2030.
The Past and Future of Climate by David Archibald PDF download
Wednesday, June 10th 2009, 9:18 AM EDT
I initially wrote this article using data only from David Archibald, but within a couple of minutes I was given some broader data from Leif Svalgaard, so I have rewritten this to include both resources in the interest of seeing the broader perspective. – Anthony
Wednesday, June 3rd 2009, 6:50 PM EDT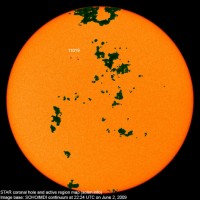 The sun has become more active in recent days with cycles 24 spots in middle latitudes. See sunspot group number 11019 for group of red spots. This is slightly diminished since yesterday. The dark green areas are coronal holes out of which the solar wind escapes at higher velocity.
Please click this link to read FULL report from IceCap.US
Tuesday, May 26th 2009, 11:46 AM EDT
This posting is by David Archibald from October 2008