Articles Tagged "David Archibald"
Sunday, January 29th 2012, 12:09 PM EST
Predicting the amplitude of Solar Cycle 24 was a big business. Jan Janssens provides the most complete table of Solar Cycle 24 predictions at:
http://users.telenet.be/j.janssens/SC24.html
Prediction activity for Solar Cycle 24 seemed to have peaked in 2007. In year before, Dr David Hathaway of NASA made the first general estimate of Solar Cycle 25 amplitude:
http://science.nasa.gov/science-news/science-at-nasa/2006/10may_longrange/
Based on the slowing of the Sun's "Great Conveyor Belt", he predicted that
"The slowdown we see now means that Solar Cycle 25, peaking around the year 2022, could be one of the weakest in centuries."
He is very likely to have got the year wrong in that Solar Cycle 25 is unlikely to start until 2025.
In this paper:
http://www.probeinternational.org/Livingston-penn-2010.pdf
,
Livingston and Penn provided the first hard estimate of Solar Cycle 25 amplitude based on a physical model.
That estimate is 7
, which would make it the smallest solar cycle for over 300 years.
Tuesday, January 10th 2012, 1:25 PM EST
Solar Cycle 24 is now three years old and predictions of the date of solar maximum have settled upon mid-2013. For example, Jan Janssens has produced this graph predicting the month of maximum in mid-2013, which is 54 months after the Solar Cycle 23/24 minimum in December 2008:




For those of us who wish to predict climate, the most important solar cycle attribute is solar cycle length. Most of the curve-fitting exercises such as NASA's place the next minimum between 2020 and 2022 (eg: http://wattsupwiththat.com/2011/11/06/nasas-november-solar-prediction/). Solar minimum in December 2022 would make Solar Cycle 24 fourteen years long, which in turn would make the climate of the mid-latitudes over Solar Cycle 25 about 1.0°C colder than the climate over Solar Cycle 24.
Wednesday, August 12th 2009, 5:44 AM EDT
Carbon dioxide is not the major influence on climate
The government's intention to introduce an emissions trading system in Australia rests upon their belief that human carbon-dioxide emissions are a cause of dangerous global warming. That belief is incorrect. Though carbon dioxide is indeed a minor greenhouse gas, the major control on earth's climate has always been, and remains, the Sun.
The correlation between solar activity and climate was first noticed in ancient Greece in 400 BC (Hoyt and Schatten, 1997). The Sun's solar cycles are normally 11 years long, and can vary from nine years to 16 years. There is a correlation between solar cycle length and amplitude, with the shorter the cycle the higher the amplitude. High amplitude cycles produce a stronger solar wind, changing the level of galactic cosmic rays impinging on the Earth's atmosphere. This is measured as neutron counts at several stations around the planet. That in turn alters the Earth's albedo by changing cloud formation, as increased galactic cosmic rays enhance cloud formation.
Variation in the Earth's albedo due to changing cloud cover is sufficient to have caused the warming of the 20th century (Svensmark and Friis-Christensen, 1997). This is borne out by the relationship between Be10 levels in the Dye 3 ice core from Greenland and major climatic periods. Be10 is formed by cosmic ray spallation of oxygen and nitrogen. Spikes in Be10 levels in the Dye 3 core are associated with all the major cold periods of the Little Ice Age, including the un-named cold period at the end of the 19th century.
Saturday, March 17th 2012, 7:49 AM EDT
Figure 1: Heliospheric Current Sheet Tilt Angle 1976 – 2012
The heliospheric current sheet tilt angle is currently at 67°. Solar maximum occurs when it reaches 74° – so a little bit further to go.
Thursday, October 7th 2010, 6:19 AM EDT


The number is still wrong.

Hathaway's number is 64. The best estimate is 48, the same as Solar Cycles 5 and 6. We still have four years to solar maximum so there is plenty of time for activity to build. With the F10.7 flux at 75 as I write this, the trajectory is very flat.

The shape is wrong.

Strong cycles are front-loaded. Weak cycles are symmetrical. This is a weak cycle so the decline will be as long as the ramp up. Dr Hathaway has the Solar Cycle 24/25 transition in 2020. It will be in 2022.
The Gods punish excessive hubris, but Anthony has invited me to comment on Dr Hathaway's most recent Solar Cycle 24 prediction:
Monday, June 15th 2009, 4:17 AM EDT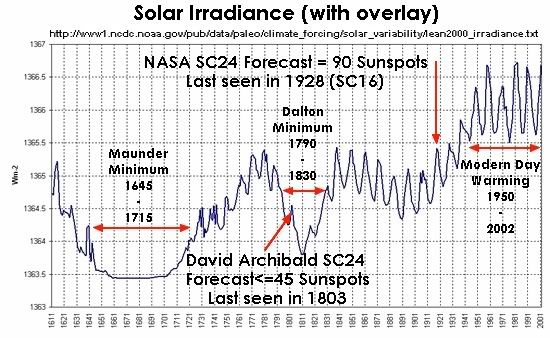 Will the next cycle be a Dalton Minimum repeat, or a start of a new Maunder Minimum?
This is what David Archibald went on to say to SC25.Com in a recent email...he believes that start of Solar Cycle 24 could also be the start of a new Dalton or Maunder Minimum, the historic cooler conditions on Earth (see the period on display on the above overlay) that correlate to low solar activity and "Global Cooling".
He then said that the Maximum Sunspot count he expects is HALF of that forecast by NASA, in that David only expects no more then 45 Sunspots at the SC24 Maxima (last seen in 1803), and in his own words "it could even be south of that".
Wednesday, February 3rd 2010, 12:45 PM EST


Solar Cycle 24 was a late starter, about three and a half years later than the average of the strong cycles in the late 20th century and almost three year later than the weak cycles of the late 19th century. It was almost as late as Solar Cycle 5, the first half of the Dalton Minimum. The last few months have seen it ramp up relatively rapidly.

Click WUWT link to read FULL report from David Archibald
Solar Cycle 24 is now over a year old, so it is appropriate to see how it is ramping up.
Wednesday, July 13th 2011, 6:14 AM EDT
When I started out in climate science in 2005, the climate people ignored the solar physics community. A casual perusal of the literature though indicated that the difference in climate outcome from Dikpati's (NASA) estimate for Solar Cycle 24 amplitude of 190 and Clilverd's (British Antarctic Survey) estimate of 42 amounted to 2.0°C for the mid-latitudes.

Since then, the prognostications of astute scientists with respect to Solar Cycle 24 amplitude have come to pass. Some commentators though are over-reaching and predicting a recurrence of the Maunder Minimum. We now have the tools to predict climate out to the mid-21st Century with a fair degree of confidence, and a repeat of the Maunder Minimum is unlikely. A de Vries Cycle repeat of the Dalton Minimum is what is in prospect up to the early 2030s and then a return to normal conditions of solar activity, and normal climate.

The three tools we have to predict climate on a multi-decadal basis are the solar cycle length – temperature relationship, the logarithmic heating effect of carbon dioxide and Ed Fix's solar cycle prediction. Let's start with the solar cycle length – temperature relationship, first proposed by Friis-Christensen and Lassen in 1991. This is the relationship for Hanover, New Hampshire:
Tuesday, December 21st 2010, 3:22 PM EST
James Marusek emailed me to ask if I could update a particular graph. Now that it is a full two years since the month of solar minimum, this was a good opportunity to update a lot of graphs of solar activity.
Figure 1: Solar Polar Magnetic Field Strength
The Sun's current low level of activity starts from the low level of solar polar magnetic field strength at the 23/24 minimum. This was half the level at the previous minimum, and Solar Cycle 24 is expected to be just under half the amplitude of Solar Cycle 23.
Sunday, May 8th 2011, 3:49 AM EDT
Dr Svalgaard has an interesting annotation on his chart of solar parameters – "Welcome to solar max":
Graphic source:
http://www.leif.org/research/TSI-SORCE-2008-now.png
Could it be? It seems that Solar Cycle 24 had only just begun, with solar minimum only two and a half years ago in December 2008.
The first place to confirm that is the solar polar magnetic field strength, with data from the Wilcox Solar Observatory: