Articles Tagged "Solar News"
Friday, December 30th 2011, 2:54 AM EST
After five years of surprising quiet, the sun roared to life in 2011.
Our star erupted with numerous strong flares and waves of charged particles. Many researchers predict the surge will culminate in a peak in the sun's 11-year activity cycle in 2013.
This year also marked several key advances in scientists' understanding of the dynamics driving our favorite star. Here are some of the solar highlights of 2011:
Solar flares and CMEs
Having been relatively quiet since 2005, the sun spouted off a number of powerful flares and coronal mass ejections (CMEs) this year.
CMEs are made up of massive clouds of plasma that are sent streaking through space in any direction at several million mph. When these clouds are aimed at Earth, they can spawn geomagnetic storms that wreak havoc with GPS signals, radio communications and power grids
Click source to read FULL report from Nola Taylor Redd
Sunday, November 13th 2011, 8:12 AM EST
Saturday, October 22nd 2011, 3:21 AM EDT
here
for more.
Our Sun continues to be very active, with most days revealing more sunspots. We saw one new sunspot group on October 9, another on October 10, two more on October 11 and two more on October 12. But that's not all: There was another on October 13, two more on October 15, two more on October 17, one more on October 19 and three more on October 20. There have been 28 new sunspot groups making an appearance in the last 30 days. But the biggest news is the sunspot number yesterday, Thursday, October 20. The daily sunspot number was 195, a level not equaled or bettered since nearly eight years ago, on November 26, 2003, when it was 209. The closest the daily sunspot number came to equaling Thursday's value was on July 4, 2005 when it was 192.
Clck source to read FULL report
If you think Solar Cycle 24 is weaker and still progressing slower than previous solar cycles? You are correct. For a comparison of Solar Cycles 21, 22, 23 and 24, click
Sunday, November 13th 2011, 8:11 AM EST
Another sunspot number record for Solar Cycle 24 has been shattered: On Wednesday, November 9, the daily sunspot number reached 220, the highest it has been in more than eight years.

The last time the sunspot number was higher than 220 was November 1, 2003 when the number was 277. The next day -- November 10 -- the daily sunspot number dropped back to 164. Two days before it reached 277 in 2003, the sunspot number was 330, a harder record to beat.
Click source to read FULL report
Latest from SpaceWeather.com
..
INCOMING CME: A CME is heading for Earth. It left the sun on Nov. 9th when a magnetic filament in the vicinity of sunspot complex 1342-1343 erupted. The M1-class explosion hurled a bright cloud of plasma into space.....Although the eruption was not squarely aimed at Earth, the CME is likely to deliver a glancing blow to our planet's magnetic field on Nov. 11th or 12th. NOAA forecasters estimate a 25% chance of high-latitude geomagnetic storms
...Click SpaceWeather Link for more inc. Video
Source Link:
arrl.org/news
Saturday, November 19th 2011, 7:21 AM EST
A relatively quiet stretch for the sun in recent years does not necessarily herald an impending solar activity low of historic proportions, a new study reports.
The sun was quiescent from 2005 to 2010, spouting off relatively few flares and eruptions of solar plasma known as coronal mass ejections (CMEs). That dry spell lasted about twice as long as usual, prompting some scientists to predict that a "grand minimum" of solar activity — the likes of which hasn't been seen in 300 years — could be on the way.
But the opposite could just as easily be true, the study suggests.
"[A]fter looking at data of past solar activity, we have pointed out that it is just as likely that the sun will go into a grand maximum again (it just came out of one) than into a grand minimum," said study lead author Sami Solanki, of the Max Planck Institute for Solar System Research (MPISSR) in Katlenburg-Lindau, Germany.
Tuesday, September 20th 2011, 9:30 AM EDT
ScienceCasts: Secret Lives of Solar Flares
Sept. 19, 2011: One hundred and fifty two years ago, a man in England named Richard Carrington discovered solar flares.
It happened at 11:18 AM on the cloudless morning of Thursday, September 1st, 1859. Just as usual on every sunny day, the 33-year-old solar astronomer was busy in his private observatory, projecting an image of the sun onto a screen and sketching what he saw. On that particular morning, he traced the outlines of an enormous group of sunspots. Suddenly, before his eyes, two brilliant beads of white light appeared over the sunspots; they were so bright he could barely stand to look at the screen.
Friday, July 24th 2009, 5:54 PM EDT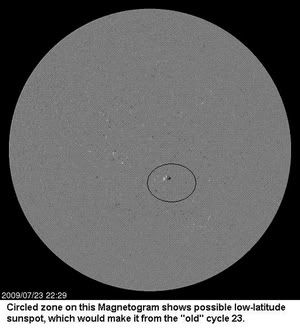 The strange transition between solar cycles 23 and 24 continues. For the first time in several months, a cycle 23 sunspot is trying to form. This further illustrates the fits and starts that the sun has experienced during its deepest solar minimum in 100 years.
The strange transition between solar cycles 23 and 24 continues. For the first time in several months, a cycle 23 sunspot is trying to form. This further illustrates the fits and starts that the sun has experienced during its deepest solar minimum in 100 years.
Years of study and measurement have shown that during solar cycle transitions, which happen about every eleven years (this one is a year overdue), the sunspot of the emerging (new) cycle appears at latitudes above 20 degrees while the spots of the waning cycle pop up closer to the sun's equator.
Another way to distinguish new cycle from old cycle spots is by their magnetic polarity. The new and old sunspots will have different polarity of magnetic signatures.
Updated below
Source Link:
examiner.com
Tuesday, June 14th 2011, 5:18 PM EDT
Physicists say sunspot cycle is 'going into hibernation'
What may be the science story of the century is breaking this evening, as heavyweight US solar physicists announce that the Sun appears to be headed into a lengthy spell of low activity, which could mean that the Earth – far from facing a global warming problem – is actually headed into a mini Ice Age.
The announcement made on 14 June (18:00 UK time) comes from scientists at the US National Solar Observatory (NSO) and US Air Force Research Laboratory. Three different analyses of the Sun's recent behaviour all indicate that a period of unusually low solar activity may be about to begin.
The Sun normally follows an 11-year cycle of activity. The current cycle, Cycle 24, is now supposed to be ramping up towards maximum strength. Increased numbers of sunspots and other indications ought to be happening: but in fact results so far are most disappointing. Scientists at the NSO now suspect, based on data showing decades-long trends leading to this point, that Cycle 25 may not happen at all.
Thursday, October 21st 2010, 2:24 AM EDT
Using Satellite Measurements to study the Influence of Sun Activity on Terrestrial Weather
at the Space Weather Workshop held in Boulder, Colorado earlier this year. Dr. Borchert finds from satellite measurements that global warming between about 1980 to 2008 was "
not anthropogenic but caused by natural activities of the Sun's surface.
" He relates changes of the solar magnetic field to cosmic rays and cloud formation (
the cosmic ray theory of Svensmark et al
) and to effects on the North Atlantic Oscillation, which affects weather phenomena around the globe.
Using Satellite Measurements to study the Influence of Sun Activity on Terrestrial Weather
Abstract: The time rows of Terrestrial Climate Components (TCC) since the Eighties have shown some strong Influences by Extraterrestrial Components with the beginning of the 22. Sunspot period. Therefore the increase of ground near temperature on earth and oceans (2 –3 m above ground), called Global Temperature, during the warming period between about 1980 and 2008 seems to be not anthropogenic but caused by natural activities of Sun's surface.
Dr. Horst Borchert, the Director of the Department of Physics of the Johannes-Gutenberg Institute, Mainz, Germany, presented a paper,
Tuesday, May 31st 2011, 1:43 PM EDT
As a new solar minimum takes our planet towards global cooling an increasing number of scientists give credence to a new theory blaming our Sun's wobble.
It started in 2007 when scientists saw that gravitational forces in our solar system may have a huge impact on Earth's climate. Professor Ivanka Charvátová, CSc. from the Geophysical Institute of the Czech Academy of Sciences, explains why there is suddenly so much interest in her theory in an exclusive interview with
klimatskeptik.cz
.
Professor Charvátová calls it Solar Inertial Motion (SIM) and she claims it will have serious impacts on our climate. She says a predictable "wobble" of our Sun called barycenter shift alters Earth's weather patterns. Few climatologists have yet studied this phenomenon. But the evidence supporting Professor Charvátová's SIM theory is becoming ever more compelling.
Our Wobbling Sun
Increased international interest in the SIM 'wobble effect' began after Australian scientist Dr. Richard Mackey published a paper addressing the effects of the barycenter shift in
The Journal of Coastal Research in 2007
. Mackey drew inspiration from the work of the late Rhodes Fairbridge.
Click source to read FULL report from John O'Sullivan
Source Link:
suite101.com