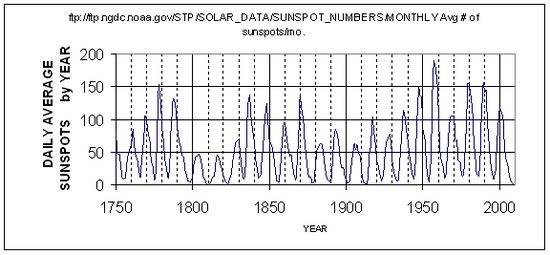 The following description of sunspots was selectively extracted from Wikipedia: "A sunspot is a region on the Sun's surface (photosphere) that is marked by intense magnetic activity, which inhibits convection, forming areas of reduced surface temperature. They can be visible from Earth without the aid of a telescope.
Article continues below this advert:

Although, they are at temperatures of roughly 4,000–4,500 K, the contrast with the surrounding material at about 5,800 K leaves them clearly visible as dark spots. However, the surrounding margins of sunspots are hotter than the average, and so are brighter; overall, more sunspots increase the sun's solar constant or brightness. Sunspots were rarely observed during the Maunder Minimum (which refers to the low sunspot count) in the second part of the 17th Century. This coincides with a period of cooling known as the Little Ice Age (LIA) (which refers to the low temperature)".