Recent research by Robert Hodges and Jim Elsner of Florida State University (GRL June 2010) found the probability of three or more hurricanes hitting the United States goes up drastically during low points of the 11-year sunspot cycle related to reduced ultraviolet radiation during the quiet sun which leads to less warming of the upper atmosphere and thus greater instability of the atmosphere. Their work was published this month in the scientific journal Geophysical Research Letters (Elsner, J. B., T. H. Jagger, and R. E. Hodges (2010), Daily tropical cyclone intensity response to solar ultraviolet radiation, Geophys. Res. Lett., 37, L09701, doi:10.1029/2010GL043091).
For hurricanes to form, the atmosphere must cool fast enough, at the right heights, to make it unstable enough for storm clouds to form. This thunderstorm activity enables heat stored in the ocean to be unleashed, developing into tropical cyclones. As the "heat-engine theory" of hurricanes goes, storm strength decreases when the layer near the hurricane's top warms.
The sun's yearly average radiance during its 11-year cycle only changes about one-tenth of one percent, according to NASA's Earth Observatory. But the warming in the ozone layer can be much more profound, because ozone absorbs ultraviolet radiation. Between the high and low of the sunspot cycle, radiation can vary more than 10 percent in parts of the ultraviolet range, Elsner has found [
here
]
Baldwin and Dunkerton (2004) had found similarly, although solar irradiance varies 0.1- 0.15 (this cycle) over the 11 year cycle, radiation at longer UV wavelengths increased by several (6-8% or more) percent with still larger changes (factor of two or more) at extremely short UV and X-ray wavelengths.
Energetic flares increase the UV radiation by 16%. Ozone in the stratosphere absorbs this excess energy and this heat has been shown to propagate downward and affect the general circulation in the troposphere.
Labitzke and Van Loon (1988) and later Labitzke in numerous papers has shown that high flux (which correlates very well with UV) produces a warming in low and middle latitudes in winter in the stratosphere with subsequent dynamical and radiative coupling to the troposphere. Shindell (1999) used a climate model that included ozone chemistry to reproduce this warming during high flux (high UV) years.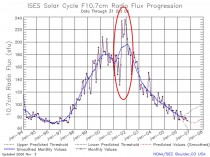 NOAA SEC solar flux (10.7cm) during cycle 23. Note the second solar max with extremely high flux from September 2001 to April 2002.
Click PDF file from iceCap.us to read FULL report from Joseph D'Aleo